Check Out This Awesome Interview with Jessica ! She's so Awesome & talented !
1. When You got the Role of Willow what was your thoughts ? Well I was so excited! I screamed and had a solo dance party in my apartment. I am from Orlando, so I have always been a Disney girl. I would dream about being on my favorite Disney shows my whole life, so I was shocked.
2. Who was the first person you called when you got the role of Willow ?
My mom. She has been the most supportive person in my life. She let me drive 3000 miles away to pursue my dream, so she had a mini dance party of her own when I called. :)
3. What are your thoughts on Dove Cameron ? Well when I saw her at my first Liv and Maddie table read I couldn't believe that there are people in this world allowed to be that pretty. It should be illegal. Haha but she is as beautiful on the inside as she is on the out. And don't ask me to tell you how talented she is, she can act,sing,dance she's unbelievable. I know that everyone is going to fall in love with her!
4. ( Fan Question By @cb810Digg ) Is Liv & Maddie anything like Shake It Up knowing the same writers wrote L&M ? Well cb810Digg it's definitely amazing like Shake It Up! Their both really bright and funny for sure. But as far as all the dancing on Shake It Up, I think only Liv could pull that off!

5. Describe Your Character Willow on Liv & Maddie ? She is a spit fire! She is a tough girl and she will stick up for her friends till the end. She also has a softer side that really comes out every once in awhile...if your lucky ;)
6. What type of Vibe do you think Fans will get from this show ? I know that they are going to love it! It is so funny, I haven't laughed this much in my life when I'm reading these scripts. I feel like the audience is going to laugh and really feel for these girls, and this family. (and of course their friends!) This show has so much heart, the kind of show you watch with your friends and family. It's a show for all ages.
7. Who is your favorite twin Liv Or Maddie ? Wow. What a question! Did it just get hot in here? In the hot seat! I love them both, but I have to always go with my girl Maddie, Maddie and Willow have been thru a lot. Their besties.
8. If there could be one Disney or Nick show to Lead Role in what will it be ? Thats a tough one...no,it's not! Girl Meets World! I grew up watching Boy Meets World every week. It was my favorite show in the whole world! So if I could play Cory and Topanga's daughter, I would be so stoked!
9. What is your favorite classic Disney & Nick show ? Ok, I'm going to have to go back in time to the 90's lineup because those were my favorites! for Disney I would have to say The
Torkelsons! And for Nick I would have to say All That! I would sing that theme song 24/7
10. ( Fan Question From @Smaklein ) W
hat do you love about your character Willow?
I love her fearlessness. She doesn't second guess herself she says exactly what's on her mind. Now, whether that's a good idea, is a whole other story.
11. ( Fan Question From @SaraStarkPhoto )
How long have you been acting ?
I have been acting since I was in middle school. Doing plays and musicals. But professionally for 7 years.
12. ( Fan Question From @AMCelorier )
Do you get along and hang out with the cast you all look like you are having so much fun?
Sometimes we ask each other how can we call this work? We have so much fun! We all get along so well. We hang out and talk constitently. We really just started working on this show and we all feel like family.
13. Are you working on any other shows other then Liv & Maddie ? I am, I am recurring on The Middle on ABC. I have for the last 2 years now. I play a character named becky and I'm a wrestlerette (a cheerleader for the wrestling team) Which is another show that is so fun to be on. I've been very blessed.
14. Thoughts On Girl Meets World ?
Well I feel like I've already expressed my feelings on the subject but I will say more if you want. haha I can't wait! It's going to be amazing to see everyone back together!
15. Who do you look up to Acting wise ?
I really look up to Tina Fey. I think she is an amazing comedic actress and writer. I really would love to work with her someday.
Thank you! was soo much fun!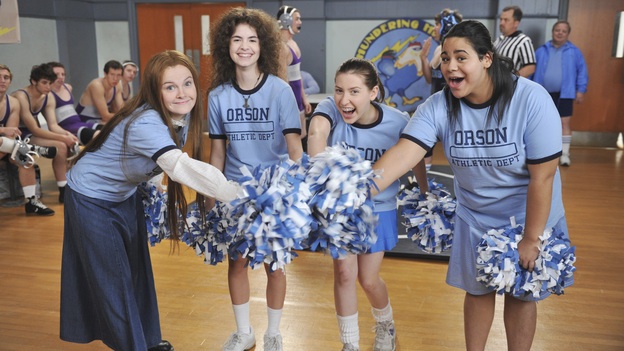 Loved this interview so fun and honest ! Can't wait to see Jessica !